Library Regulations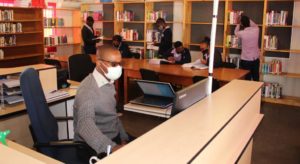 Membership
All registered students of the College and members of staff are required to fill library membership forms.
Use of the Library
Registered members of the Library are permitted to the services of the Library. Members are required to abide by the rules and regulations on the use of the Library. The Librarian reserves the right to refuse admission of a non-registered member to the Library.
Library Rules
Library users are encouraged to observe silence in the library.
Smoking and eating are not allowed in the library.
Bags, briefcases, umbrellas and raincoats should be left at the entrance of the library.
The booking of study tables by leaving personal possessions is strictly prohibited. They are liable for removal by Library Staff.
The shifting of furniture without the permission of the Librarian is strictly prohibited.
All library resources shall only be taken out of the library through seeking permission at the Circulation Desk.
Books must be left on the tables where they were used; they should not be taken to the shelves.
Procedures for Borrowing Materials  
Book Issues
Library books shall be issued to registered member of the library.
Number of items to be borrowed and the loan period are categorised as follows:
| Category | No. of Items | Loan Period |
| --- | --- | --- |
| Full-time students | 4 | 14 days |
| Full-time Academic Staff | 6 | 1 semester |
| Part-time Academic Staff | 4 | 30 days |
| Non-Academic Staff | 4 | 30 days |
Books may be renewed only once.
Books already out on loan can be reserved.
The Librarian may call for the return of a book at any time.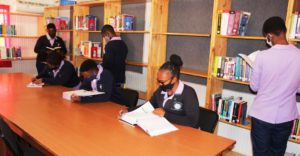 Library Opening hours 
Library opening hours are subject to change depending on the college activities.
Library users will be notified of such changes.
Monday   0700Hrs – 1600Hrs
Tuesday  0700Hrs – 1600Hrs
Wednesday   0700Hrs – 1600Hrs
Thursday   0700Hrs – 1600Hrs
Friday   0700Hrs – 1600Hrs
The library will be closed on all public holidays and on weekend.